The Serenity Spa brand is based on the Art of Well Being, shaped by its concept of a well balanced life. KOBU worked with PineCliffs, A Luxury Collection Resort's marketing team towards defining the brand identity and visual universe for this award-winning spa.
Regarding Serenity Spa, KOBU was behind the study and development of the brand identity, including design collaterals, signage and all the communication materials. As part of KOBU's comprehensive work, we were also responsible for a photo shoot for the brand, as well as Social Media consulting to follow after the beginning of the project.
In this case, the major challenge was to create a communication line that would translate well into the desired branding for the services offered by the Spa.
Algarve Chefs Week
Algarve Chefs Week is an annual event based both on a tasteful and collective experience. Being given plenty of creative freedom, KOBU brought into life the Algarve Chefs Week premium cuisine concept in all its iterations - and its connection to a larger target audience.
For the last events organised by Algarve Chefs Week, we have been responsible for all communication of the events, including written content for social media.
Work for this client was deep-rooted in Paper Craft and Calligraphy as organic techniques. This was the main challenge in the Algarve Chefs Week, since everything had to be perfect and we were working with "real life" materials to create the imagery of the brand. Perfectionism is one of our trademarks in every project we are involved with. All communication, including Social Media content, was based on this organic imagery, developed with actual ingredients used in culinary arts.
Água Monchique
The brand narrative for Água Monchique is as connected to the product itself as it is to its natural authentic origin. For this project, we went straight to the source of this pure mineral water: its springs and the awe-inspiring natural scenery that surrounds them.
For this project, which resulted in a video recorded in the middle of the beautiful natural landscapes in Monchique, the challenge was precisely to convey the authenticity of the scenery in such a short time (the video was one and a half minute).
This video brings you along on a journey through the pure, untouched nature in the lands of Monchique, where this marvellous and unique spring alkaline water is from. The video was produced as part of a major project for international promotion.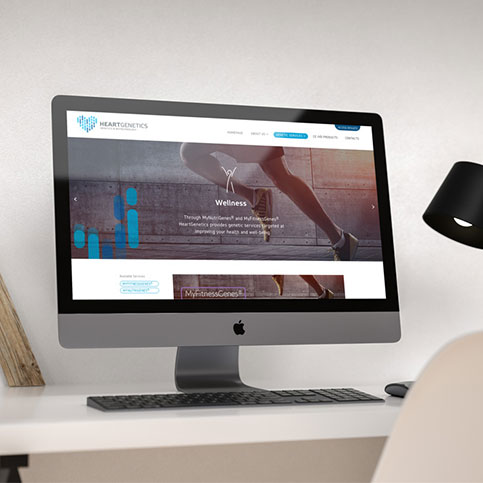 Heartgenetics
At the center of the Heart Genetics branding, we can find highly personalised lifestyle plans based on wellness genetic tests. As a startup, Heart Genetics is constantly evolving and its visual language follows this evolution as its concept develops into new iterations and shapes.
Heart Genetics is a start up company that has been in business for five years. Ever since it opened, it has been constantly improving its organic structure and services, and KOBU has been there for every step of this evolution, accompanying these changes with a constantly evolving imagery, iconography and website. One of the main goals for this project is to evolve along with the company, making these changes fluid and flexible, noticeable but not in a distracting way.
BoCA
BoCA's brand narrative is as artistic as it is political and social. Bringing together a series of cultural institutions into the Biennial of Contemporary Arts, it strives to show how art and society are connected, and how this relationship brings people together in a way that goes beyond "art for the sake of art".
This venture was developed as part of our ongoing work with SOLOS, a Lisbon-based agency that partners with us since 2014. The biggest challenge with BoCA was to work with a brand that already had a really strong and solid concept and imagery and translate that into a meaningful user experience on their website.
At the same time, it was highly stimulating to bring into the web the universe of the contemporary art and imagery that BOCA stands for. 
Visit www.bocabienal.org
Lab Lounge Terrace
Shaping the LAB Lounge Terrace concept included studying local fauna and flora that could be used as graphic elements against the backdrop of the usual cocktail-themed components. Our work resulted in a refreshing and organic visual language for this Ria Formosa inspired Lounge.

Lab Lounge Terrace's concept is built around the idea of a Summer lounge bar, set up against the backdrop of Ria Formosa. Placed near the Faro Marina, our idea for the Lab Lounge Terrace mixed the Ria Formosa landscapes and the typical bar drinks with the exuberance and originality that are part of the Lab Lounge Terrace concept. The Lounge will be open every Summer, with a brand new image every year.
For this project, our main challenge was to mix the Lounge elements with the Ria Formosa aesthetics, but we managed to create a crossover of both with a fresh identity and graphic elements that are colourful and lively.