For 2018, we expanded the brand identity and visual communication of LAB Terrace through a concept that explores the boundaries of our perceived reality – because sometimes fun can be hiding in plain sight: in those shared moments where we let imagination run wild.
An exuberant color palette, music skydivers, flying turtles or seahorses growing from an ancient statue – these graphic elements come together through a collage that stimulates the audience senses. They all guide us to a world where we can loosen up and enjoy the moment. That is what LAB is about: a place with stunning views, unexpected fun and cheerful adventures with friends.
The choice of nature related elements expresses the intimate relationship of the brand visuals with the location of this terrace lounge: on top of Faro's Centro de Ciência Viva and next to Algarve's most treasured natural landscape, Ria Formosa.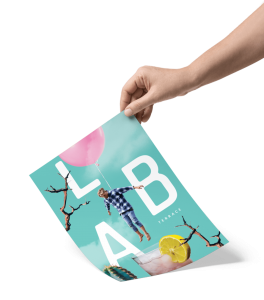 Social Media
Animated facebook cover
LAB Events
LAB Terrace organizes regular events and we reimagined their mood through the lens of this humorous and strange visual universe.